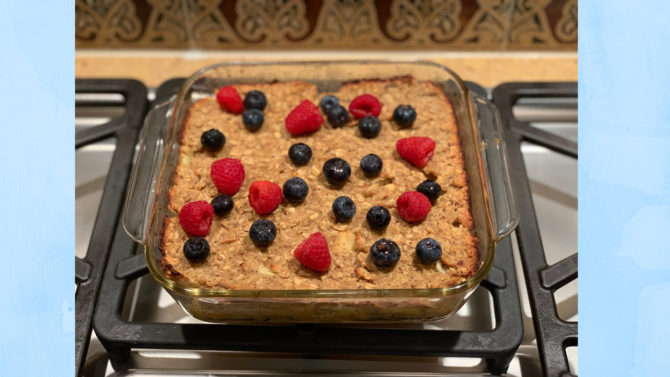 Priya's Apple Crisp(Plant based and gluten free):
Crisp and yummy dessert with traditional and plant based recipe
FILLING INGREDIENTS:
4 medium size apples– mixture of granny smith and sweeter variety of apple
½ cup of raisins
1 tbsp of cornstarch
½ tsp cinnamon
Dash of lemon juice
Pinch of salt
CRISP INGREDIENTS:
½ cup of brown sugar–for plant based option– Use 8-10 dates depending on size and sweetness
½ cup of non dairy butter such as Earth balance–for plant based option– Use ⅓ cup of sesame paste
½ cup almond flour
1 cup of old fashioned oats
½ tsp cinnamon
DIRECTIONS:
For the Filling: Peel and chop the apples into small cubes and place in mixing bowl. Add the other ingredients and toss the apple pieces until all are well coated.
For the Crisp(traditional): Melt the non-dairy butter on stove or microwave and place in separate mixing bowl. Stir in the other dry ingredients.
For the Crisp(Plant based version): Place 8-10 dates in a small blender, add ½ cup of water and ⅓ cup of sesame paste. Blend until smooth syrup thick consistency. May need to add 1 to 2 tablespoons of water to achieve the desired consistency. Place this mixture in a mixing bowl and stir in the other dry ingredients for the crisp.
Pour the filling ingredients in a 9" x 9" baking dish.
Add the crisp mixture on top of the apples. Use the flat edge of table spoon to spread the mixture evenly
Cover with aluminum foil and bake for 20 minutes at 350
Uncover and bake for an additional 20-25 minutes. Longer baking time will result in more crisp topping.
Let sit for 5-10 minutes and enjoy warm.
May add berries on top before serving(optional)
For special occasions, serve a la mode with your favorite dairy free ice cream.
Leave a reply