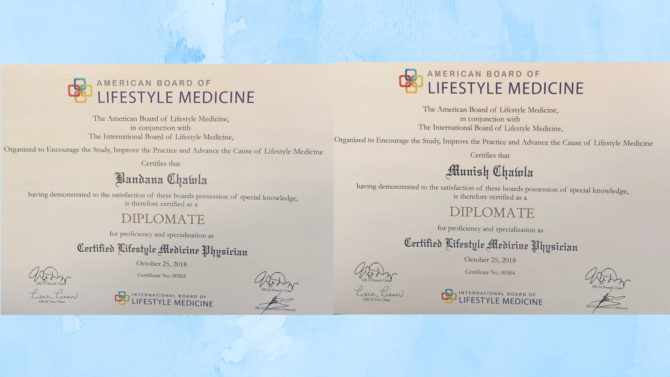 We are very excited to introduce all of you to the new field of Lifestyle Medicine. The American College of Lifestyle Medicine was founded in 2004 by Dr. John Kelly and his colleagues at Loma Linda University. The American Board of Lifestyle Medicine was organized in 2015, and they offered their first board examination to physicians and other allied health fields in October of 2017.
Through the best available peer reviewed and evidenced based research, Lifestyle Medicine seeks to address the root cause of chronic diseases, not merely treat the signs and symptoms. When the root cause of diseases (such as heart disease, Type II diabetes, hypertension, and autoimmune diseases) is addressed, we have the opportunity to not just treat and manage these seemingly chronic diseases, but have the power to reverse and completely eradicate these lifestyle related ailments.
It is clear from abundant research, that common diseases in the US and Western Europe are very uncommon in other parts of the world. Moreover, when individuals from other parts of the world move to US, within a generation or 2, their risk of  "chronic diseases" is similar to the general US population. So, it's not the genes, it's the lifestyle. To address the disease epidemic that's gripping our nation's health and wealth, we need to change our lifestyle.
Through evidenced based research, the field of Lifestyle Medicine(LM) has clearly shown that there are 6 key components to health and wellness with nutrition(whole food plant based diet) being the cornerstone. Ample research also shows that the other key components to good health are exercise, stress reduction techniques, avoidance of tobacco and limiting alcohol, adequate sleep, and healthy relationships. Our motivation in starting this blogging website was to highlight the copious evidenced based research which shows the benefits of optimal nutrition and practice of mindfulness amongst others. On the post today, we will share many more websites and resources, which clearly demonstrate the power of lifestyle in treating and reversing "chronic diseases". See links below.
On a personal note, we also want to share great news with our readers. Both of us, Dr. Bandana Chawla and Dr. Munish Chawla, became the second cohort to take the board examination for LM in October, 2018. And, we are happy to report, that we both passed and are now Diplomates of Lifestyle Medicine.
Links for more info:
https://www.lifestylemedicine.org/What-is-Lifestyle-Medicine
https://www.bluezones.com/#section-1
https://www.who.int/dietphysicalactivity/factsheet_recommendations/en/
https://www.mindful.org/jon-kabat-zinn-defining-mindfulness/
Leave a reply