Mission Statement
Our Mission is to empower YOU to become healthy in mind, body and spirit. At Lifestyle Docs, we address the root cause of disease and provide the tools, guidance and support you need to not just reverse diseases but become holistically healthy and achieve your personal best.
Why choose LifestyleDocs?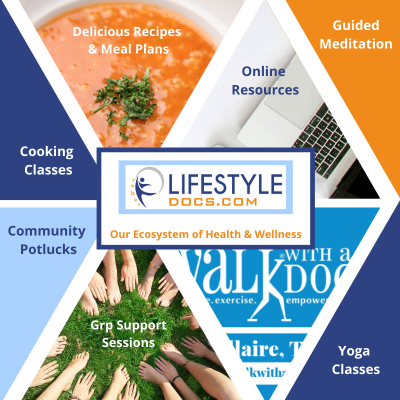 Dr. Bandana Chawla and Dr. Munish Chawla are plant-based doctors who offer a holistic approach to health to address the root cause of many common diseases and ailments, which is informed by the evidenced based tenets of Lifestyle Medicine. Our approach includes co-creating a personalized health plan to start you on your unique journey to health and wellness.  
Our speaker series will educate and inspire you. Biweekly yoga classes and guided meditation sessions will allow you to connect with others and your own true self. In person and online group support sessions will keep you engaged and motivated. Cooking classes and monthly potlucks at our clinic will offer you a chance to learn, teach and be a part of a healthy and vibrant community. To learn more about our Ecosystem of Health & Wellness, schedule your free consult today. Schedule my free 30 minute Consult