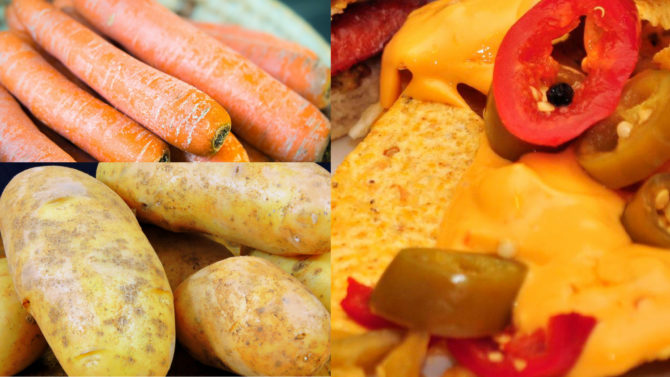 Look at the recipe below and turn potatoes and carrots into a healthy and super delicious substitute for Velveeta. Use it on nacho chips, quesadillas, taco salad, baked potato, broccoli or any veggies of your choice.
INGREDIENTS:
2 cup boiled potatoes
1 cup boiled carrots
2/3 cup cashews(presoak in water for 1-2 hours). May add a few more cashews if extra creamy desired
1/2 cup of water
1/3 cup nutritional yeast
1 tablespoon lemon juice
1 teaspoon salt
1/2 teaspoon onion powder
1/4 teaspoon garlic powder
Pinch of paprika or cayenne if you want a little extra kick(optional)
For best results, use a high speed blender such as Vita Mix, Blendtec or Ninja
Add water to the blender first followed by nutritional yeast, lemon juice, and spices and blend for 30 seconds.
Blend intermittently and add the potatoes and carrot ½ to 1 cup at a time.
Blend for an additional 2-3 minutes and Enjoy!
Leave a reply