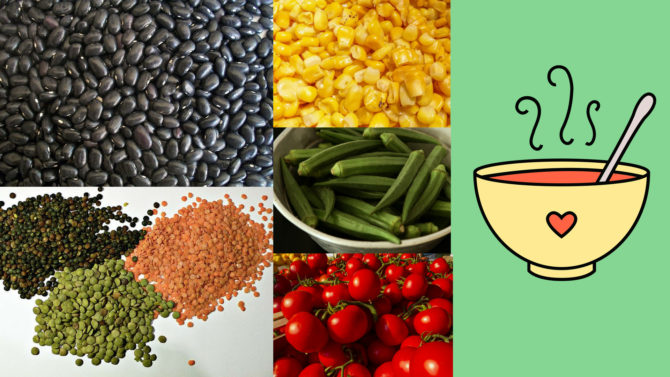 Lentil and Bean Soup:
1 cup Black beans if using fresh, or 15-16 oz canned black beans.
Lentils of your choice, e.g. yellow, red or french lentils (½ cup)
1 medium size onion–chop finely
8 oz corn
8 oz okra, chop in ½ inch cubes
½ bell pepper–chop in small squares
Green Sauce–see recipe below
Cilantro
–Boil lentils till cooked. Approx. 20-25 minutes for french lentils on stove top. May also use Instapot or crock pot.
–Boil black beans in a separate container or use canned black beans.
–Sauté onions in water or one spoon of olive oil.
–Add the other vegetables(corn, okra and bell pepper) to the sauté pan. May use fresh or frozen okra, frozen corn.
–Add the green sauce to the bean and lentil mixture.  Let all boil together for another 5 to 7 minutes.
–Garnish with cilantro before serving,
Green Sauce:
4 Jalapenos
2 Serranos(may skip, if less spicy desired).
Tomatillos 6
1 red tomato, chop coarsely
Garlic cloves 1-2
–Boil water, add tomato, garlic, tomatillos and jalapenos and boil for additional 10 minutes. Let everything cool down.
–Add salt to taste.
–Place all ingredients in blender and blend still smooth.
Leave a reply