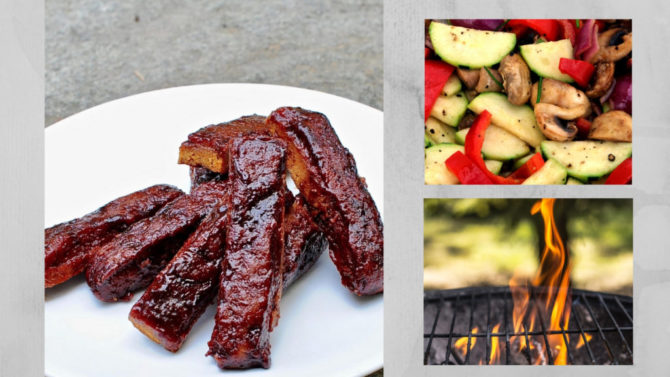 Sue's Seitan BBQ Ribs: Here is a great recipe to take to your next neighborhood BBQ.
INGREDIENTS:
1 cup Wheat gluten
2 tsp Smoked chipotle powder
2 tsp Onion powder
2 tsp Garlic powder
2 tbsp Nutritional yeast
1 cup Water
2 tbsp Peanut butter or Tahini
2 tbsp Soy sauce
1 tbsp Liquid smoke
Vegan BBQ sauce
DIRECTIONS:
Preheat oven to 350 degrees.
Very lightly oil an 8" x 8" baking dish
In a small bowl combine water, peanut butter or tahini, soy sauce and liquid smoke.
In a larger separate bowl, mix in all the dry ingredients.
Add the wet ingredients to the bowl of dry ingredients and gently start kneading the dough until all ingredients are well mixed.
Place dough in a baking dish and flatten it out to evenly fit the pan
Cut the dough into 8 even strips and then half them to form 16 'ribs'
Bake the ribs for 25 minutes at 350 degrees
Remove ribs from oven and gently re-cut the strips so they are easy to pull apart after being grilled.
Generously brush the ribs with vegan BBQ sauce.
Place ribs, BBQ side down, onto the grill. Brush opposite side with BBQ sauce
Grill each side until it is nicely browned or charred, based on your preference.
Leave a reply