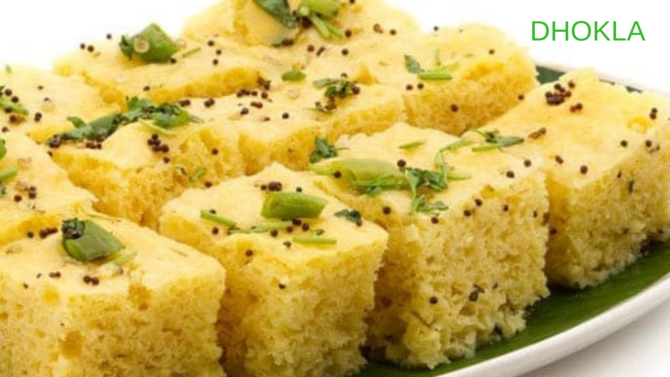 Veena's Dhokla(Steamed Savory Cakes)
Ingredients: (for initial prep)
1 cup Sooji(cream of wheat)
1.5 tbsp of chickpea flour
1 tsp grated Ginger
1 tsp lemon juice
½ tsp Salt
¼ tsp Turmeric
2 cups of unsweetened Yogurt(almond or soy)
Ingredients(later prep)
1 tsp of Eno(available at Indian grocery stores)–can substitute with ½ tsp of baking soda and ½ tsp of salt
Cilantro
Shredded Coconut(optional)
1 tsp Mustard seeds(optional)
Jalapenos(optional)
Directions:
Place all the ingredients from the initial prep in a mixing bowl. Gently mix in 2 cups of yogurt. This should have a consistency of pancake batter. Let sit for about 30 minutes.
Immediately prior to steaming, add 1 tsp of Eno to the above mix. Place in a small steel pan or bowl and steam for approximately 20 minutes. Can do a toothpick test to confirm that it's done(insert the toothpick and remove–it should come out clean, with no streaks of batter)
Let cool overnight in the refrigerator. Cut in small rectangles and garnish with fresh chopped cilantro and shredded coconut.
Optional: Place the skillet on medium high heat. Once skillet is hot, add 2 tbsp of water or vegetable broth followed by 1 tsp of mustard seeds. Add fresh jalapenos 1-2 minutes later, and saute for another 1 to 2 minutes. Spread the mixture on top of the dhokla pieces and enjoy!
Leave a reply